Cutie masturbates in comfy bed
Added: 2017-06-25 Rating 0.00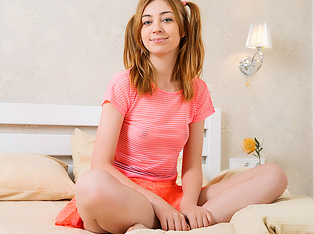 Why do girls spend so much time in bathrooms? Now we know the answer. It turns out they dance, takes clothes off, squeeze tits and rub pussies. Sure, playing with a dildo is not comfortable enough in bathroom and this is why two-tailed cutie moves into the bedroom. She lies down in her comfy bed and moves long sex toy inside her shaved pussy.
Tags:
HD Video ,Photos ,Solo ,Toys ,UHD
Dude plays with fidget spinner before casting
Added: 2017-06-24 Rating 10.00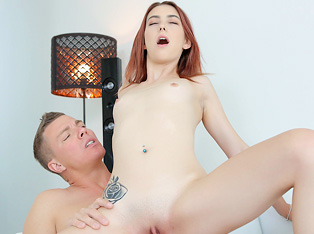 Spinner is a new toy that is very popular all over the world. Curious dude buys that toy but spends all his free time playing it. This is exactly when a ginger cutie comes to the casting. She doesn't know how to make him pay attention to her but, luckily, thinks out a way make him forget about that toy. Sure, the plan works out and they make a passionate sex action and even shoot the whole scene on camera.
Tags:
Hard ,HD Video ,Photos ,UHD
Lad teases ginger cutie
Added: 2017-06-22 Rating 10.00
Two-tailed ginger babe is a real sunshine. Her smile turns a cloudy day into a sunny one. She is also a hard-working student. She is in the middle of doing her assignments when a dude joins her. He teases the hottie and, little by little, makes her forget about her books. She still tries to study but he distracts her with his big cock and hot tongue.
Tags:
Anal ,Hard ,HD Video ,Photos ,Toys ,UHD
Charming blonde satisfies lad totally
Added: 2017-06-19 Rating 10.00
Lacy lingerie can beautify any cutie. It can even make a hot babe simply irresistible. When the sexy babe wants to make sex, she puts on her favorite lacy lingerie and her boyfriend can't resist the temptation of diving into her beautiful and juicy holes. He teases, kisses, rubs and pleases her till she moans with orgasm and agrees to take a load of his cum on her gorgeous tits.
Tags:
Hard ,HD Video ,Photos ,UHD
Chick puts sex spell on dude
Added: 2017-06-18 Rating 10.00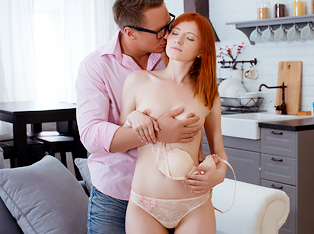 Is it possible to keep reading when a hot ginger chick in sexy lingerie walks into the room? Yes, the dude couldn't keep doing it. So, he puts away the book and pays all his attention to a beautiful red-haired chick. After all, he simply has no other way out. She sits down on his laps, teases him with her perfect tits, talented hands and firm bottom.
Tags:
Anal ,Hard ,HD Video ,Photos ,UHD
The content can be viewed through any mobile device such as iPhone, iPad, iPod, Android, Blackberry, Windows Mobile and tablets.
All persons depicted herein were at least 18 years of age:
18 USC 2257 Record-Keeping Requirements Compliance Statements

Privacy Policy :: Terms & conditions